"

Eleanor's silky voice and her band's infectious energy enchanted our audience. Their world rhythms and multi-lingual lyrics celebrate the beautiful diversity in our world and honor the human experience that ties us all together. Eleanor's music delighted audiences young and old."
— Rose Ann Hoffland, Levitt at the Falls Concert Series - South Dakota
NPR Weekend Edition Sunday: Alt.Latino's Picks For New Spring Music
By Felix Contreras, April 1, 2018
"Coleman picked vocalist/songwriter Eleanor Dubinsky because of the poignancy of the lyric. Dubinsky is a multilingual musician who can capture the emotions and soul of a community in a song like the one that selected, Cuando Voy A Mi Trabajo."
NPR Music: Alt Latino 
Album Review: Eleanor Dubinsky's 'Soft Spot Of My Heart' 
By: Felix Contreras 
April 3, 2018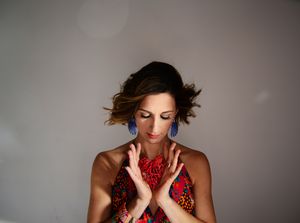 Vocalist Eleanor Dubinsky is slowly, but steadily, building a body of work that consists of elegant and thoughtful songwriting that slides easily between genres and geography through top-notch musicianship, all in service to a voice that stopped me in my tracks when I first heard it. Her new album, Soft Spot Of My Heart, is her strongest work yet.  
Dubinsky's journey is similar to that of so many songwriters — the story of finding a voice to match the music she hears in her head. In her case, that means the songs arrive in either English, Spanish or Portuguese. She lets them determine which language is best suited to express the emotion within.  
Dubinsky is a vocalist, cellist, guitar player, songwriter and an intrepid musical explorer, yes — but what she is not is from Latin America or of Latin American heritage. Still, her approach to writing in Spanish, as well as her affinity for Latin music and rhythms, come from a place of respect, aided by musicians from various parts of the Spanish-speaking world, organic and true to a sensibility consistent with the best folk music of Latin America. It proves there is plenty of room under the umbrella we call Latin music to accommodate those who did not have the benefit of a birthright to contribute and, at times, expand the traditions. Original article here. 
Concert Review: Eleanor Dubinsky Singing International Elegance at the Parkway Theater
By: Ann Treacy
September 4, 2019
"Sometimes you get lucky and you find yourself seeing an international musician in a suddenly intimate setting because it's her first time playing in Minneapolis. And that was the case seeing Eleanor Dubinsky at the Parkway Theater on Tuesday night....Dubinsky is elegant and worldly with songs in French, Spanish and Portuguese. She sang a catchy French song about stopping life to focus on forgetting a man and smoking. Funny to see a French song nearly become a singalong. And a rare treat that makes a lapsed French minor feel smug. Her band is impressive and accomplished. Each musician has a way of making certain songs their own while working on the whole. The percussionist was especially fun to hear. The bongos lifted every song while the chimes and other sounds left an exotic feel. There were some nods to the world to with an apropos version of Wind Won't Knock it Down in honor of the people standing strong in the face of Hurricane Dorian. You Are Special, You Are Beautiful brought the room together in recognition of the people who feel disenfranchised or really unseen and unheard since the last election. The song is an anthem. Jazzy but with a pliant blues edge..."
Read the full review here.
Kelolandland Television
News at Five Feature: Levitt at the Falls Performer Celebrates Diversity with Children in Sioux Falls​​​​​​​
By: Lauren Soulek
July 25, 2019
"Before Eleanor Dubinsky and her band take the stage at the Levitt tonight, they wanted to share their multi-cultural and multi-lingual music with children in Sioux Falls...Today they shared their music and cultures with children at the Multi-Cultural CARE camp. On top of performing some of their own songs for the kids, the band also worked with the kids to write their own song..."
Watch the full story here.
"Eleanor Dubinsky is prodigiously talented: a gifted multi-instrumentalist with a strong, clear voice and a knack for catchy, open-hearted, multilingual pop that invokes the likes of Maria Bethânia and Carole King. While Dubinsky's recordings are well worth your time, you need to see her live to appreciate the full package. Her recent performance at NYC's Joe Pub celebrated the release of her latest album, Soft Spot of My Heart, and it was a knockout. Dubinsky's multilayered songs — inspired by jazz, soul, Latin, and afro-Atlantic influences — opened up and revealed themselves in performance. Songs like the gospel-inflected "Turn It Around" and "You Are Special, You Are Beautiful" are relentlessly positive, but leavened with enough emotional grit and musical muscle to stop cynics dead in their tracks. The result was a joyous, uplifting and deeply generous performance — to her musicians and the audience alike — that was just the tonic for the frayed nerves of many New Yorkers after another long winter in these parlous times. Go. See her. This is music as medicine for your soul."
- Tom Pryor (Music Journalist; Nat Geo Music, Songlines, Afropop Worldwide)