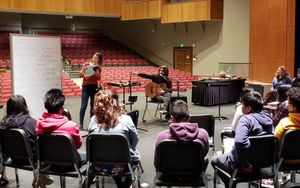 WORKSHOPS & MASTER CLASSES
Eleanor is as passionate about educational outreach as she is about songwriting and performing. 
In 2021-22, Eleanor led a four-month virtual songwriting and career development program in Honduras called RITMOS UNIDOS (United Rhythms). Ritmos Unidos resulted in two original songs and videos by student participants, centering on topics relevant to their lives and to their communities (see videos below). Ritmos Unidos was  a program of the U.S. Embassy Tegucigalpa and the U.S. Bureau of Educational Affairs Arts Envoy Program, in collaboration with community organizations ODECO and FARECOH. 
Click here to check out NPR's feature on Ritmos Unidos.
Eleanor also led a similar songwriting program in Argentina (see below video) in addition to music workshops at elementary schools, high schools and universities in Indiana and Ohio.
Eleanor was also selected as one of six artist/artist groups to participate in the 2020-21 Gibney Moving Towards Justice Fellowship, where she further developed her community based, collaborative approach to songwriting as a means of amplifying marginalized voices and generating dialogue amongst diverse audiences.
Eleanor's educational work builds on her substantial life experience. She holds a BA in Philosophy of Education from Brown University focusing on the arts as a catalyst for social change. She has taught creative arts, dance, songwriting, French and Spanish to students ages 3 to 75
As a current Arts Envoy with the U.S. Department of Educational and Cultural Affairs, Eleanor teaches and performs  in Spanish, French, Portuguese and English as a cultural diplomat in partnership with U.S. Embassies and community organizations worldwide.
Scroll down to watch official student-featured videos created during Ritmos Unidos and other songwriting workshops. 
Contact Eleanor to set up a workshop or masterclass: info@eleanordubinsky.com
Kent State Tuscawaras Songwriting Workshop
Videos from Ritmos Unidos and More:
Behind the Scenes: Songwriting Workshop at UCCC St. Louis, MO